Accessing School servers from home:
For many years, some schools have allowed access to school servers from home computers for their staff. They achieved this by installing a Windows Terminal Server or Remote Desktop Services (RDS) server and requesting a link to be added to the DoE staff portal for their users. This worked effectively on older versions of Windows at home, but as Windows 8 and 10 were released, connection was no longer seamless. Staff who had Apple Macintosh computers at home were also unable to easily connect. ITD has released an upgrade to the RDS service via the staff portal which now supports a wider range of home computers. The new service works on all Windows and OSX versions using one of the following compatible browsers:.

Staff with Windows devices at home MUST use Internet Explorer
Staff with Apple Mac devices MUST use Safari
Google Chrome, Microsoft Edge, and Mozilla Firefox (>v52) do not support Java or ActiveX plugins and cannot be used.
Students are unable to access school RDS servers from home. Schools with existing portal links to a terminal server will see the new RDS service commence from Friday 2 June 2017.
Windows users with Internet Explorer 11:
The RDS portal link detects the browser being used and if it is Internet Explorer 11, it will connect via ActiveX/Javascript. The first time this is attempted on a Windows computer, it will install the required ActiveX/Javascript plug-in before launching the RDS session. If the plug-in has already been installed, the RDS session will immediately launch. You must accept or allow the installation/launch of the plug-in if/when prompted. If you are having problems with the plug-in at home, you may need to start Internet Explorer 11 by right-clicking the shortcut and choosing Run as Administrator the first time only, before going to your staff portal and selecting your site's RDS.
By default, the RDS should display full screen in IE11. If you find it appears in a small window with the maximise button greyed out, you can still maximise the RDS screen by clicking on it once, then pressing Ctrl-Alt-Break on your keyboard.
Apple Mac users with Safari:
The RDS portal link will use Java in order to connect to RDS. All builds of Java SE Runtime Environment v8 have been tested and work fine with the DoE RDS. By default, the RDS will appear in a window set to 90% of your display size. It cannot be maximised on an Apple Mac.
What the changes look like:
When using the RDS solution to connect to school Terminal Servers, this is the first screen that the users will see when they click on their site's Terminal Server link in the DoE Staff Portal. They will need to first select the `Click here to continue` button.

this screenshot was taken from Firefox v51- only versions 51 and earlier will work with Java.
If using Safari or Firefox v51, you'll be presented with this screen to `Activate Java`. Users can click on either of the buttons to activate the plugin.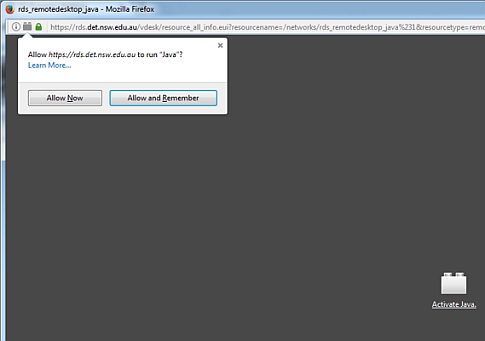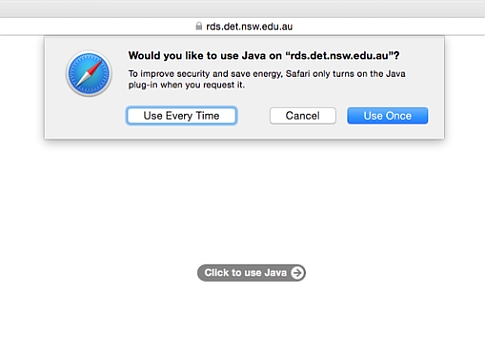 Windows: Firefox v51 and Apple: Safari - enable Java screens
The first time users access the Terminal Server using RDS on these browsers, they will have to accept a message similar to the following. If you select the checkbox and click the `Run` button, you should not be prompted with this message in the future.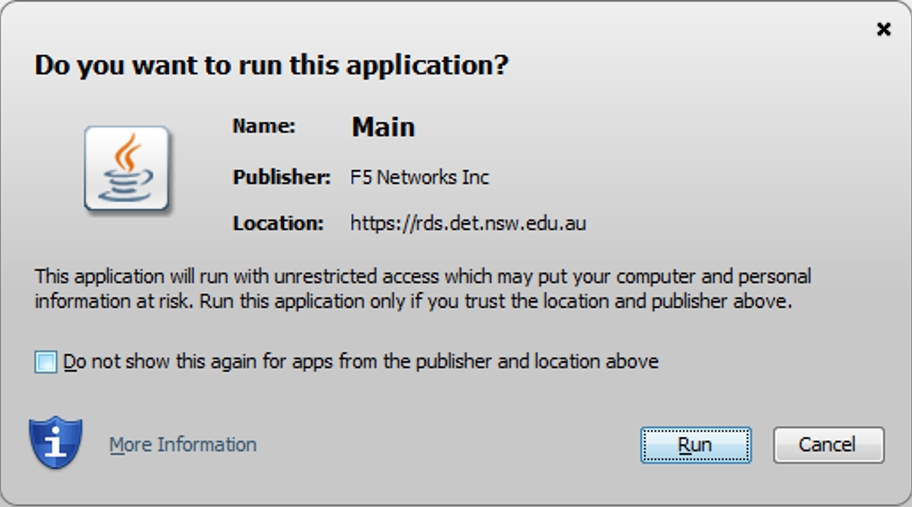 Tick the checkbox, then click Run.
The link to your school's terminal server should then execute and you should be able to logon as normal.
If using Internet Explorer 11 on a Windows PC, for the first time connection only, you will be prompted to install an ActiveX/Javascript plug-in. You must allow this, then the RDS session will launch normally.
NOTE: User management for who has access to the school's terminal server is managed by the person listed against the terminal server link in your DoE portal. This is usually the school's Principal or ICT Coordinator. If other staff need to be granted access, or have access revoked, the nominated portal link administrator will need to make those adjustments.
Interested in setting up a Remote Desktop Services server at your school?
If your school does not have an RDS server and is considering getting one, please contact the department's schools ICT support team in your local area for advice prior to any hardware procurement.